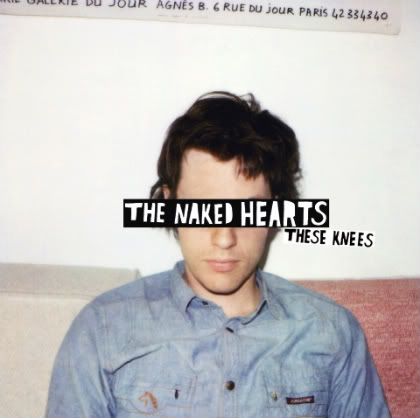 These Knees [EP]
Self-released, 2009
Rating: ***** (5/10)
I never mean to solicit submissions that I'm going to write negative reviews of, but sometimes, you can't predict a disappointment. Such was the case with the Naked Hearts EP, which will be released tomorrow (Jan 20) on limited edition vinyl.
I've caught one end or the other of a Naked Hearts set numerous times because they tend to play shows with many of my friends and many of my favorite New York bands. I've always really enjoyed what I've heard of them, noisy pop with male-female vocals and great crunching guitars. So when I heard they were releasing an EP, I was pretty eager to have a listen.
But when I put my copy on, I kept waiting for the band I liked to kick in. Instead, I just got a dime-a-dozen indie rock band with mediocre melodies and a cliched sound. Amy Cooper has a strong voice and thankfully sings most of the record. However, co-frontperson and singer Noah Wheeler leaves quite a bit to be desired in pitch and tone. The songs aren't bad, but they are completely unmemorable - there are probably hundreds of local bands who have accomplishments at the same level.
The one exception is "Call Me," which, while not groundbreaking, is by far the record's most satisfying track. The melody is catchy and delightfully gritty and the subtle guitars provide perfect support for Cooper's voice. I'd skip the EP, but if there's ever an opportunity to download the album track-by-track (which sadly I don't think is included in release plans), this song is definitely worth a buck to add to your collection.