Here's the third installment...
PREVIOUS>>
Part 1 - Rules and Runners Up
Part 2 - #20-16
#15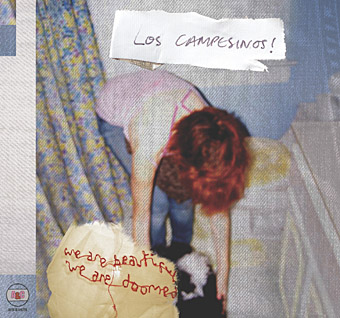 Los Campesinos! - We Are Beautiful, We Are Doomed
Wichita Recordings / Arts & Crafts
This band surprised everyone by releasing two full albums in 2008, both of them gold.
We Are Beautiful
, the second of the two, curbs some of the manic pop expressions of the first and shows the band's more mature and steady side. In slowing things down, they bump up against a few more indie rock cliches, but the album is still beautifully crafted. Their richly-orchestrated pop and youthful, emotional vocals combine to make this one of the best albums of the year.
Track pick: "We Are Beautiful, We Are Doomed"
MySpace
#14
The Kills - Midnight Boom
Domino Records
"Sexy" is the adjective of choice in describing this album, and it's entirely deserved.
Midnight Boom
is an indie rock album, but it has the meticulous production of electronica/dance and the catchy beats to match. Delivered with confidence, the songs are hip and fun, but not without their tender moments. It's album of contradictions - down-to-earth but smart, gritty but polished, sophisticated but accessible - and it doesn't sound like anything else in 2008.
Track pick: "U.R.A. Fever"
MySpace
#13
Wye Oak - If Children
Merge Records
This duo won me over
when I saw them live
a few weeks ago. While they intially come off as gentle and folky, Wye Oak can crank it up too. The result, so far, is this gorgeous debut (originally released before 2008 but re-released on Merge Records to a
much
wider audience this year). Its noise-folk ranges from homey, comforting acoustic numbers to towering cliffs of sound. Each composition is well-conceived and over it all, both members deliver some of the year's best lyrics. (If you can listen to "If Children Were Wishes" without crying, you probably have no soul.)
Track pick: "Family Glue"
MySpace
#12
Tears Run Rings - Always, Sometimes, Seldom, Never
Clairecords
I said this album might not be in the top "dozen or so" albums of the year
, but that was before I'd listened to all the competition. On this dazzling debut, TRR have matched and even surpassed the quality of most their early 90's shoegaze influences.
Always, Sometimes
is nothing revolutionary, but anything that can stand on a level with best of Pale Saints or Slowdive is worth serious attention. For those not familiar with these bands, imagine a series of shimmering soundscapes and entrancing melodies so rich that they seem to build another world around you, a dense forest of sound blanketed in somber beauty. This is nothing but pure shoegaze heaven.
Track pick: "Fall Into Light"
MySpace
#11
The Manhattan Love Suicides - Burnt Out Landscapes
Squirrel Records/Magic Marker Records
This collection of EPs, singles, radio sessions and other rarities is so packed with music that it clocks in only seconds short of the 80-minute mark. And astoundingly, almost all of the album's 27 songs are pop gems in their own right. Massive feedback and distortion drench the entire record, but the songs themselves are tightly-constructed two-minute catchy pop numbers reminscent of classics like the Beach Boys. The MLS are far from the first band to use this template, but they are one of the best in recent years, never wavering as they churn out one bright melody after another.
Track pick: "Johnny Boy," "Keep It Coming" or really any of them. They're all good.
MySpace
NEXT>> Part 4: #10-6
Part 5: #5-1